Katoomba's grooviest retro restaurant & bar
HOME TO THE BEST BURGERS, SHAKES & COCKTAILS (NOT TO MENTION SERIOUSLY GOOD TIMES) IN THE BLUE MOUNTAINS
Your favourite Aunt has one rule.
Come hungry.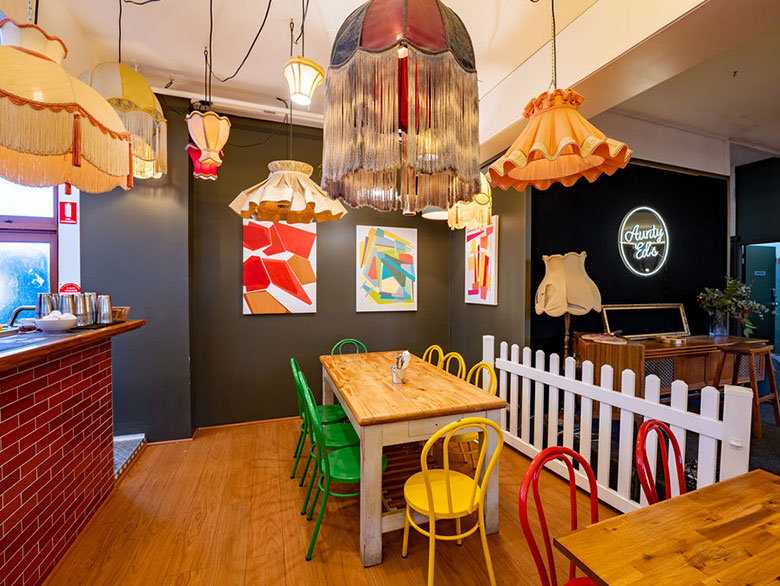 Remember when life was about eating a good meal surrounded by good people?

At Aunty Ed's, it still is.
We're all about bringing all of that together in a space that's familiar and fun – a space where life is experienced through a retrospective lens, and where everyone feels they belong.
Because you know Aunty Ed – always happy to make space for one more at the table.
At Aunty Ed's we serve up real food made in-house with real ingredients.
Whether you're tucking into an old-school burger,
an oh-so-satisfying meal or one of our truly divine desserts, you know exactly what you're eating.
The truth is, you can taste it.
Functions & Events at Aunty Ed's
GOOD times EVERY DAY…
AND EVERY NIGHT
Fancy an Old Fashioned or Aperol Spritz?
Our extensive cocktail menu pays tribute to all the classics (not to mention a few insanely good retro cocktails deserving of a comeback).
But what we're truly famous for are our signature cocktails.
Designed by an international mixologist and inspired by the glorious Blue Mountains, they turn a cocktail into a one-of-a-kind experience.
Of course, Aunty Ed's also serves limited edition craft beers and hand-picked regional wines are the perfect lunch or dinner accompaniment.
She's unpretentious, gleefully kitsch, and wildly chic.

She's always ready to amp it up – from the turntable to the bar and kitchen.

And she can't wait to invite you in.
Katoomba's coolest bar and restaurant? Close to The Three Sisters, of course
Sun to Thurs: 12pm-9pm
Fri & Sat: 12pm-11pm
Main entry / stairs
122 Katoomba street,
Katoomba, NSW 2780
Disabled access available
from rear, please contact us
so we can guide you upon arrival